6 or 8 Volt to 12 Volt Booster
Here is the solution for the best way to use your GPS or charge your phone or tablet in a 6-volt car, positive or negative ground. It can be out-of-sight when not in use to preserve the original look of your car, or, it can be permanently mounted making for easier use. There are two models which were developed by an individual with a master's degree in electrical engineering. The 12 watt model will provide 10 watts to USB standard devices such as GPS units and telephones, including the iPhone fast charge cable. The 24 watt unit will provide 20 watts to USB standard devices such as GPS units, phones, tablets, blue tooth speakers and other devices.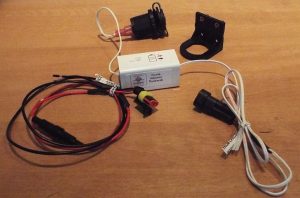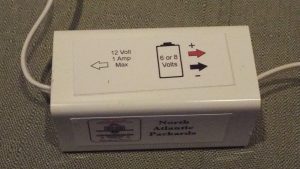 The unit can be used to power any standard USB type device, including the iPhone fast charge cable.  It cannot be used for high current devices such as air pumps, refrigerators, lighters, etc. 
Each booster comes with a power cable which is connected to the car. It includes a 3 amp or 5 amp fuse. The power cable is easily concealed and retrieved to plug in the booster when desired. The booster provides a 12-volt accessory socket to drive your device. The booster "floats" in the cabin as part of the GPS cable. The 12 watt booster is 1.25 x1.25 x2.5 inches. The 24 watt unit is 1 inch longer.
Installation is simple, clear instructions are provided. The booster works equally well for positive and negative ground systems and protects itself from reverse polarity connection.
Plan the connections for the power cable so that the connector for the booster unit can be stowed behind the front panel with enough slack that the connector can be retrieved and connected to the booster unit easily. When you are ready to use the booster, retrieve the power connector and plug in the booster. Plug the GPS, or some other device, into the 12-volt accessory socket. The booster will "float" in the cabin as part of the power cable. The 24 watt version can be used with an optional device providing two USB sockets to replace the accessory socket.
You may want to permanently conceal the power cable and mount the 12-volt, or dual USB socket permanently to the car. There is a bracket to make that possible.
Instructions for installation of the booster are available here.
How to order:
12 Watt Booster with 3 amp power cable . . $39.95 postpaid 48 states
24 Watt Booster with 5 amp power cable . . $69.95 postpaid 48 states
USB Sockets to replace Accessory socket . . $12.00 Postpaid with original order, 24 Watt Booster only
Socket Mounting Bracket . . . . . . . . . . . . . . . . $8.00 postpaid with original order
If you have more than one 6 volt car and want to use the booster in either car:
Extra power cable (3 or 5 amp) . . . . . . . . . . . $5.00 postpaid with original order
Please include your address, email, and/or phone number and 
make your check payable to "North Atlantic Packards" 
Send to: 
North Atlantic Packards 
764 Route 6A
YarmouthPort, MA  02675